VATOLIERE - CAMPAGNANO: The path of the soul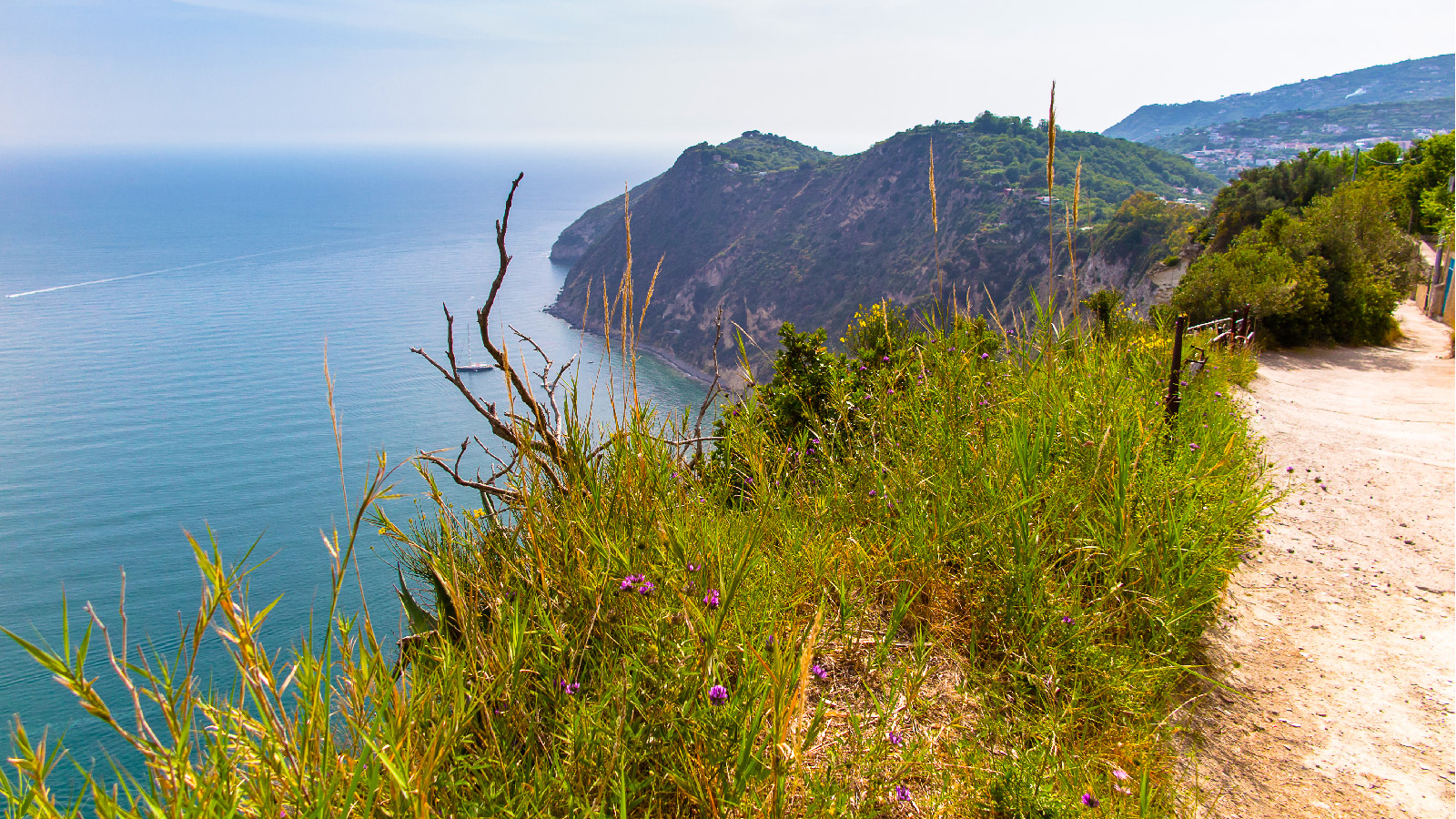 Path on the south / east side of the island, the oldest from a geological point of view. The route starts around the crater "Vatoliere", direction "Madonna di Montevergine".
Continue along a bristling but fascinating path, the "Scarrupata di Barano" whose walls show beautiful examples of stratified volcanic materials (tuff, pumice, lapilli, white ashes, trachytic rock) and arrived on the promontory between vineyards, Mediterranean scrub and a chestnut grove climb up Monte Vezzi, a volcanic cathedral of 392 m. The descent from the top towards Piano Liguori offers us a beautiful view of Punta San Pancrazio (156 m) with the characteristic little church overlooking the sea. Along the way we meet old cellars dug into the rock integrated into the terraces of the area that overlook the splendid scenery of the open sea and which meets the other islands of the Gulf (Procida, Vivara and Capri) and the Sorrento Peninsula. Continue along an agile path overhanging various inlets in which steep terraces cultivated with vineyards converge. Among these vineyards and along the splendid Bay of Cartaromana at the bottom of which the remains of "AENARIA" the old submerged Roman Ischia are still visible, the excursion is completed with the return to Campagnano.


Info
Duration: about 5 hours
Difficulty: E
Difference in altitude: 290 m
Maximum altitude: 392 m
Route development: 7.5 km
Departure: Bottom area
Arrival: Campagnano (piazza)
Itinerary: Votliere, Sgarrupata di Barano, Monte Vezzi, Piano Liguori, Campagnano.
Equipment: trekking shoes and clothing, water.